VMEbus in Industrial Automation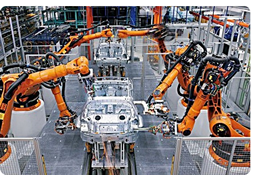 UST sells & repairs a wide range of industrial automation products across a broad spectrum of industries and offers automation engineering services that keeps your older, legacy factory equipment operating through repair, engineering and manufacturing services on products the OEM no longer supports. We deliver expert solutions to industrial automation systems and enable customers to operate more effectively and efficiently without the worry of obsolescence. We have the expertise to offer manufacturing, reverse-engineering and re-design of older electronic subassemblies or other outdated equipment, along with complete testing. We can help in manufacturing automated systems, robotic automation, automation control and in many other automated applications within the automation industry.
We also work closely with many OEM's to help them extend their product life cycles with outsource repair and manufacturing services thus allowing them to reduce cost while allowing them to provide high quality customer care to their customers.
We are a major sales/service/repair depot center offering:
Extensive subassembly inventory
for sale as well a full service depot facility that offers manufacturing for legacy product, complete testing as well as test fixture builds, repair and refurbishment, engineering and re-design.
Highly competitive pricing along with fast turnaround
Highly trained certified technicians
Custom test fixtures and procedures
Reverse engineering and repair for products that have little or no data
Excellence in customer service and ISO Certification
Cost effective, responsive reliable repair solutions
Extensive warranty on sales and repairs
We offer expedited repair and refurbishment services
Customized repair solutions for your specific needs